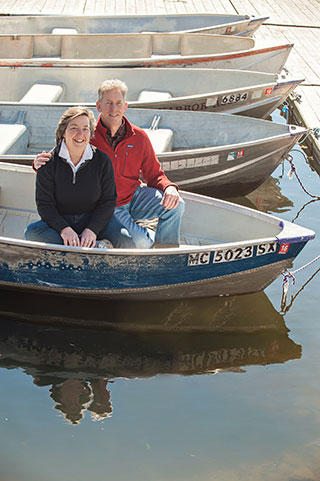 Meet RowKraft: the family business of Tom and Barb Kraft.
Our passion for rowing, coaching and rigging is at the heart of RowKraft. We spend every moment we can working to bring you the products that will help you enjoy your sport even more!
We're a committed part of the rowing community. We've coached for the Ann Arbor Rowing Club, Huron High School, and Black Bear Sculling Camp. Our kids, Nick, Mike and Katie, grew up rowing on the Huron River and continue their interest today as adults.
The search for the right light
Tom has always been drawn to the equipment side of rowing. Shortly after learning to row, he became involved with helping to maintain the club's fleet. The navigation lights we used at the time took a lot of extra maintenance. Tom searched for something better; when he couldn't find it, he began to work on his own design for bow and stern lights that would hold up to the rigors of rowing. We began selling our first KraftLight Beacons locally. When it became clear there was broader interest, we launched a website and, in 2006, officially incorporated as RowKraft Products. Though we have grown over the years, we are proud to say that our lights are still designed and built in Ann Arbor, Michigan.
About us
Barb is at the helm of RowKraft's excellent customer service, and directs both day-to-day operations as well as our business growth. She brings many years of experience in business and purchasing to her role as Chief of Operations of RowKraft.
Tom continues to invent and innovate. He loves to repair equipment and jumps at every chance to drive a trailer full of boats to the east coast, whether to the Charles or a national scholastic regatta.